Eddie "Rochester" Anderson was born in Oakland in 1906. His father, Big Ed Anderson, had been a minstrel performer; his mother, Ella Mae, had been a circus tightrope walker until an accident ended her career. Eddie Anderson started out in vaudeville and had appeared in a number of films when he debuted as the voice of a Pullman porter on Jack Benny's popular radio show in 1937. Audiences responded with such enthusiasm that the canny Benny soon made Rochester his man Friday and inseparable sidekick, and the duo starred together on radio, in movies and on television for twenty-three years.
He was born in Oakland, California, USA on September 18, 1905. As a boy, Anderson sold newspapers on a street corner and permanently damaged his vocal cords (he had to yell loudly to attract attention), leading to his trademark "raspy" voice.
Anderson began his show business career at age 14 in a song-and-dance act with his brother Cornelius and another performer. They billed themselves as the Three Black Aces.
He began his career in Radio and in 1937, Anderson made what was supposed to be a one-shot appearance on the The Jack Benny Program. The audience loved his droll humor and he became a regular member of the cast and the first black performer to acquire a regular part on radio. The show easily made the transition to early television and as "Rochester van Jones" (known simply as "Rochester") Anderson constantly deflated Benny's pomposity with a high-pitched, incredulous, "What's that, boss?"

Film of the Jack Benny radio show broadcast from Camp Haan (near Riverside, California) in April, 1942

As a legacy of blackface minstrelsy, the pairing of Benny and Anderson was based on comedy routines of the White master and his slave Uncle Tom. But by modern standards, Benny's effeminate mannerisms and Rochester as man-servant, seems to be less about a boss-employee arrangement than a long -term relationship between a pair of closeted, middle-aged gay men. Not that anyone in the 1950s would have ever seen it that way.
The high esteem in which the two actors held each other was evident upon Benny's death in 1974, in which a tearful Anderson, interviewed for television, spoke of Benny with admiration and respect.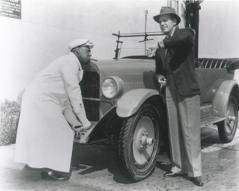 Eddie Rochester Anderson on the Jack Benny TV Show
By 1942, he was earning $100,000 a year and for a time was the highest-paid Black actor in Hollywood. Anderson invested his money wisely and became extremely wealthy.
In addition to his partnership with Benny, Anderson appeared in over sixty motion pictures, including Uncle Peter in Gone with the Wind, Cabin in the Sky, and as one of the taxi drivers in Stanley Kramer's It's a Mad, Mad, Mad, Mad World. He reprised his Rochester role in Topper Returns, this time as Cosmo Topper's valet (though he jokes about 'Mr. Benny' in the film).
Anderson died in 1977 due to heart disease at the Motion Picture Country House and Hospital in Los Angeles, California. Eddie Anderson was inducted into the Radio Hall of Fame in 2001.
---