Willie Best was one of the first well-known African American film actors and comedians, although his work, like that of Stepin Fetchit, is today sometimes reviled because he was often called upon to play stereotypically lazy, illiterate, and simple-minded characters in films. Of the 124 films he appeared in, he received screen credit in at least 77 of them, an unusual feat for a bit player.
Willie Best came to Hollywood as a limo driver for a vacationing couple. He was discovered in a LA stage play by a talent scout and got into films. In addition to being a talented comedian and character actor, Best was also a musician/song writer.
When Stepin Fetchit became very demanding and difficult, studio executives and directors began to use Willie Best as a replacement. Best's easy-going manner and work ethic made him popular with both Hollywood and filmgoers, and he was soon starring alongside some of the era's greatest comedians; including the Marx Brothers, Bob Hope, Laurel and Hardy and Shirley Temple.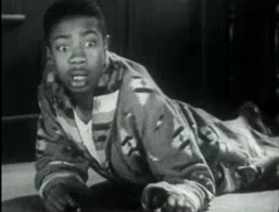 Willie Best, credited as "Sleep 'N' Eat"
in The Monster Walks (1932)
Advance to 33 minutes to see Willie Best
Studio press releases of the 1930s made outrageous claims that not only did Best enjoy humiliating himself in "darkie" roles, but that the only compensation he wanted for his screen work was three square meals a day and a warm place to sleep. Despite the demeaning nature of his roles, Best performed them with consummate skill and razor sharp comic timing. Bob Hope, who worked with Best in The Ghost Breakers (1940) and Nothing But the Truth (1941), once referred to Willie as "the finest actor I knew."
In addition to his numerous film roles he also graced the television screen becoming most known to many for his role as Charlie, the elevator operator, on the series, "My Little Margie" (1953-1955) starring Gale Storm, which aired on CBS. Other television roles he added to his resume were on, "The Trouble with Father" (1950-1955) also known as "The Stu Erwin Show", "Racket Squad" (1951-1952) starring Reed Hadley and "Mark Saber" (1951).
Willie Best lived a vastly different life than his on-screen persona. He reportedly was a sharp dresser whose fame afforded him evenings on Central Avenue with the finest ladies (both black and white) and the finest dope. On May 24, 1951, Willie Best was taken to L.A.'s Lincoln Heights Jail on a narcotics bust.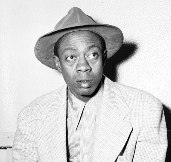 Willie Best in jail after his drug bust
Best was never given the opportunity to portray characters beyond the stereotypical porter and janitor roles that were his film career. And he was also a victim of backlash against these same roles during the Civil Rights movement. After the drug arrest ended his film career, he worked in television for a while before retiring to relative obscurity at the Motion Picture Country Home. Willie Best is buried in North Hollywood, California and until recently his grave was unmarked but a new grave marker was recently purchased and installed by his fans.
"I often think about these roles I have to play. Most of them are pretty broad. Sometimes I tell the director and he cuts out the real bad parts… But what's an actor going to do? Either you do it or get out."
---